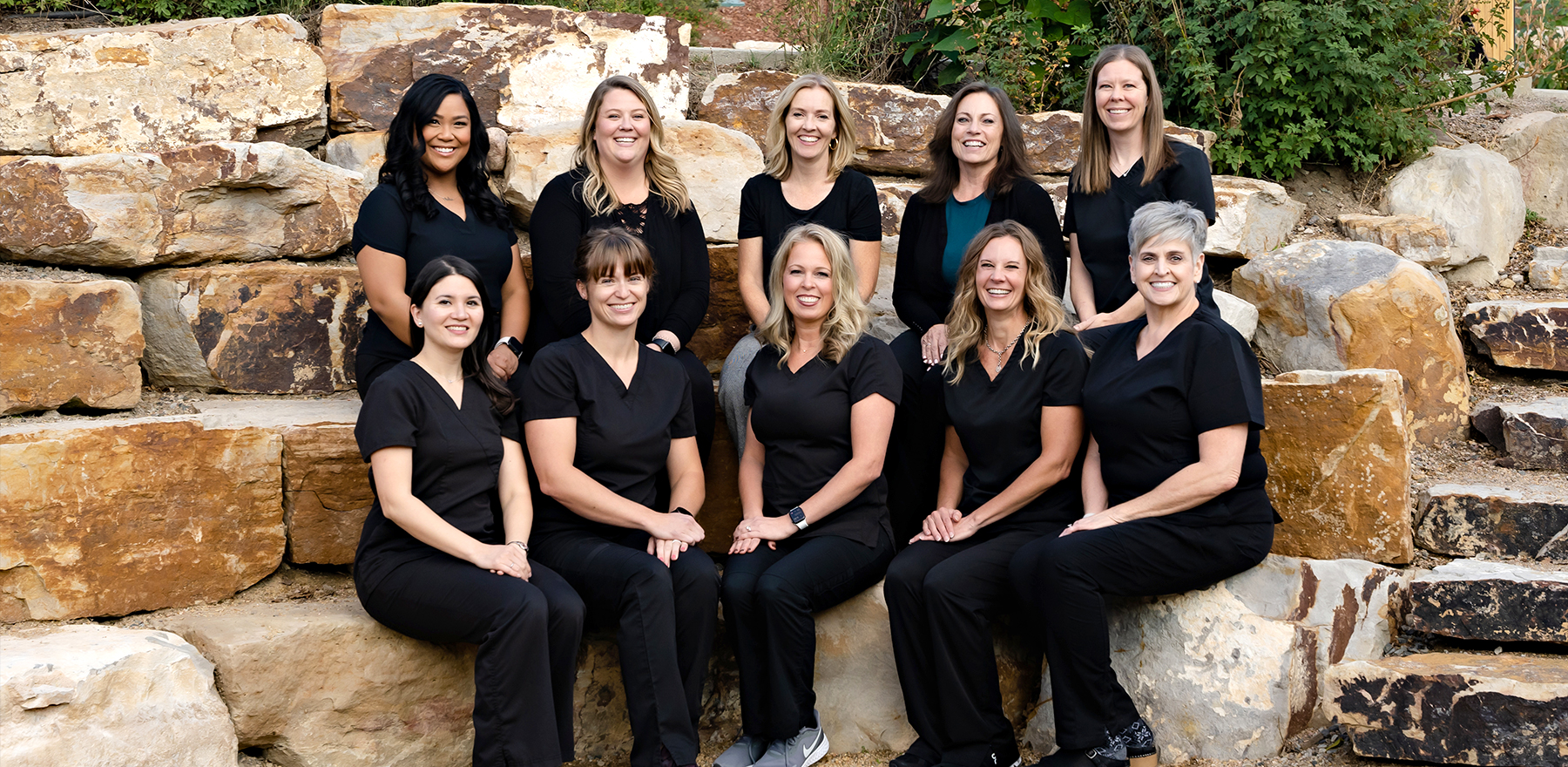 Main Content
Meet the Staff
Dentists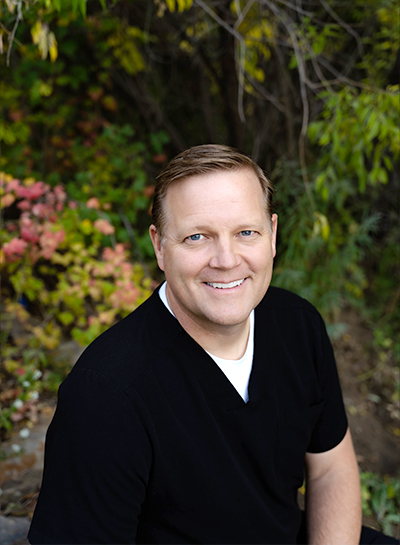 Preston H. Polson, DDS
Dr. Preston Polson has been practicing dentistry for the past 16 years. He grew up in the Castle Rock area having attended elementary school, junior high, and high school in Sedalia and Castle Rock.
Growing up in Douglas County taught Dr. Polson to appreciate the small-town values and hard work that comes with a rural community. Although Douglas County has changed over the years those values and traditions continue to shape and drive Dr. Polson's personal life and professional dental practice.
Dr. Polson received his Doctorate of Dental Surgery from the University of Colorado and completed a one-year Hospital based General Practice Residency in Burlington, Vermont. His clinical excellence developed over the years in private practice and as an affiliate faculty member of a dental residency program. Dr. Polson's unique practice philosophy and training are what sets his office apart from the rest.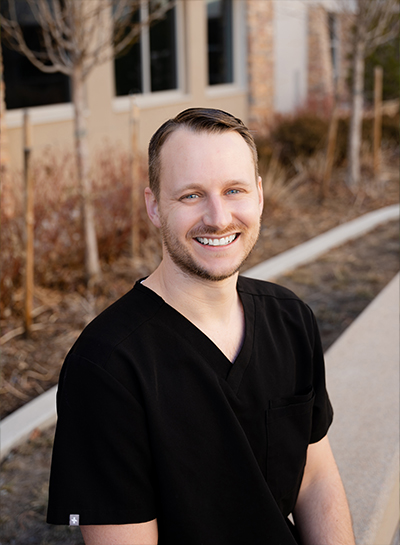 Dr. Marshall Klein, DMD
Dr. Marshall Klein earned his bachelor's degree from Brigham Young University. He then received his Doctorate in Dental Medicine from Midwestern University in Arizona.
As a dentist, Dr. Klein is committed to providing quality, personalized care in a comfortable environment. He will listen to his patient's concerns and work with them to create a treatment plan tailored to their specific needs. In an effort to always provide quality dental care, Dr. Klein continues to further his education through courses and seminars. In addition, Dr. Klein is an active member of the dental community, and he belongs to several dental organizations, including the Academy of General Dentistry, the Colorado Dental Association, and the American Dental Association.
Dr. Klein speaks both English and Albanian. Outside of the office, Dr. Klein enjoys being outdoors and spending time with his wife and three kids. He loves all sports, especially hockey, and baseball. He enjoys rooting for the Anaheim Ducks and the Los Angeles Angels.
front desk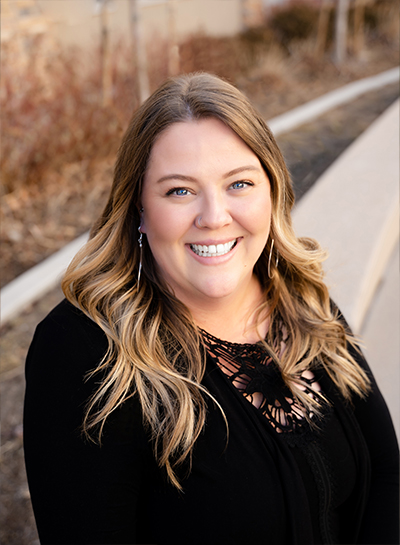 Nicholette, Office Manager
Nicholette is originally from Tucson, Arizona, but has lived in Colorado for most of her life. She has been an instrumental part of our practice since 2015 and has loved being able to get to know and interact with all of our patients. Over the years, she has grown to see patients as family. From the moment you walk through our office door, you will immediately be greeted by her electric and bubbly personality! When she is not in the office, Nicholette loves spending time with her two teenage boys and traveling. She absolutely loves dogs and can promise if you bring them by the office, she will smother them with cuddles and love!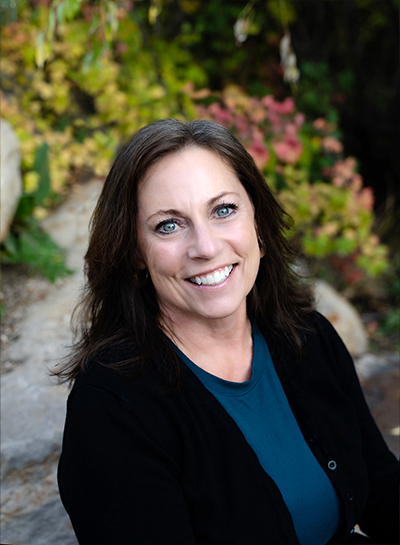 Rose, DA, Front Office
Rose has been with Meadows Family Dentistry since 2016. With her 40 years of dental experience both chairside as a dental assistant and working the front desk, she has been a vital part of the MFD team. She loves that dentistry is always evolving and progressing in ways that benefit people from all walks of life - comfort-wise and aesthetically. Rose originally grew up in Michigan and moved to Colorado in her 20s. She enjoys spending time with her family and pets.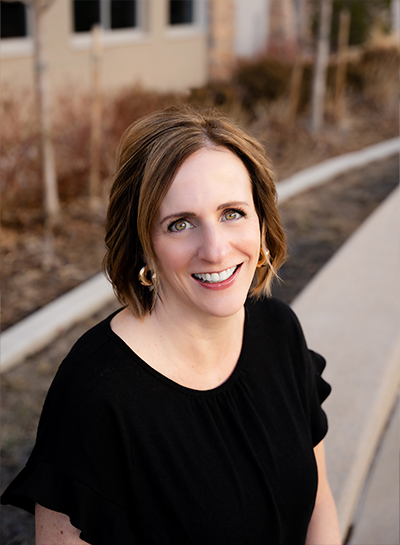 Kristin, DA, Front Office
Kristin was born in St. Louis, Missouri. Her family moved to Colorado when she was 3 years old. She has always considered Colorado her home and herself a Colorado Native. She has been in dentistry for 25 years as a Dental Assistant. Recently she has started on a new path by working at the front desk. She has really enjoyed learning all of the aspects of the front office as well as greeting and welcoming all of the patients. She's enjoying getting to know everyone. She and her husband love to hike, travel and spend time with their kids and grandkids. The most spoiled member of the family is their little 3lb dog, Lucy!
assistants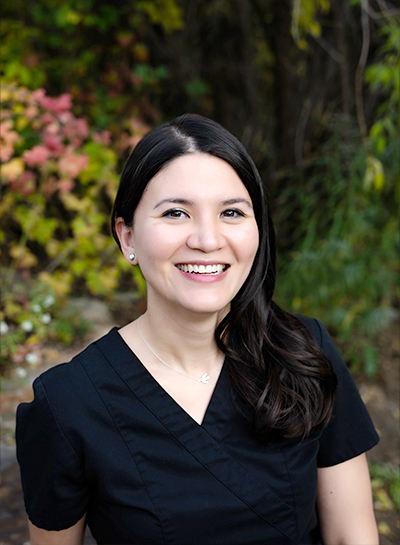 Julia, BBA, DA, EDDA
Julia is originally from Germany and lived in Washington D.C. before moving to Colorado in 2012. Since relocating, she considers Colorado to be her second home! In 2016, she graduated from Concorde Dental Assisting School. Prior to becoming an EDDA, she worked in the hospitality industry and as a preschool teacher. She loves working with all age groups, particularly with children and consequently has experience in pediatric and general dentistry. In the future, Julia looks to further pursue her education by becoming an RDH. Along with her two children, Julia enjoys taking road trips and hikes around the state, as well as loving their family cat and Mr. Shark (their Beta fish). Fun fact: Julia climbed Mt. Kilimanjaro in Tanzania.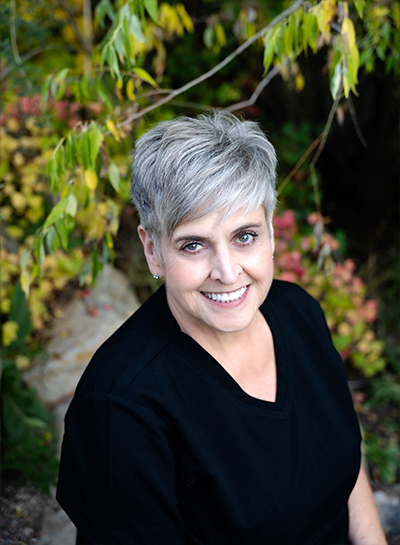 Barb, DA, EDDA
As a Colorado Native, Barb has lived all around the state but has been here in Castle Rock for the last 18 years. With her 30+ years of experience as a dental assistant, she has been a welcomed asset to Meadows Family Dentistry since 2019. Her favorite part of dentistry is the opportunity to learn about her patients and be able to help them in all their dental needs and concerns. Barb enjoys spending time with her husband, Jeff, and her German shorthaired Pointer named Cookie. She enjoys watching college and professional sports and is an avid Oklahoma Sooners, Rockies, Broncos, Avalanche, and Nuggets fan! Fun fact: Barb LOVES to laugh.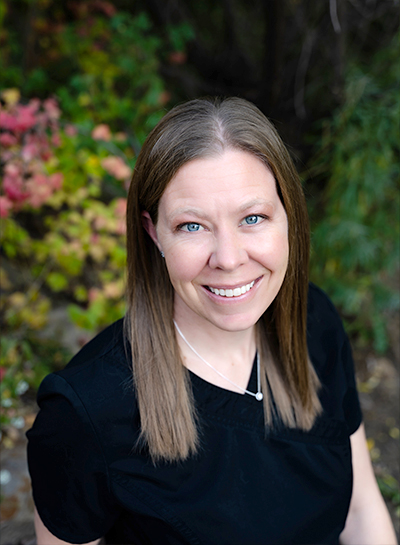 Briana, DA
Briana was born and raised in Colorado and is a proud Colorado Native! She has been a dental assistant for 24 years. She has been with Meadows Family Dentistry since 2020 when she moved down to Castle Rock. Her favorite aspects of dental assisting include NGA or night guard therapy, laser therapy, and Oral Surgery. While away from work, Briana enjoys gardening, spending time with her family, and being a cheerleader for her kids and their sports. Fun Fact: Briana has two dogs, a lab named Marshall and a husky named Bodhi.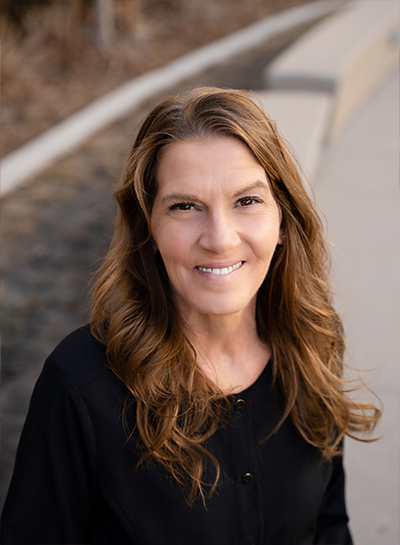 Martina, Sterilization Technician, DA
Martina is new to dentistry after discovering her love for it while working in a humanitarian dental van in Kiev, Ukraine. So far, her favorite thing about dentistry is putting a smile on patients' faces. Martina enjoys being hands-on and working alongside the dentists to restore beautiful smiles. She is a Wisconsin native who has a degree as an Industrial Engineering assistant. Growing up, she lived on a large dairy farm feeding calves and milking cows since the age of 5 and is a die-hard Cheesehead for the Green Bay Packers. She loves to hike, bike, and do anything outside. Fun fact: Martina is a triplet!
hygienists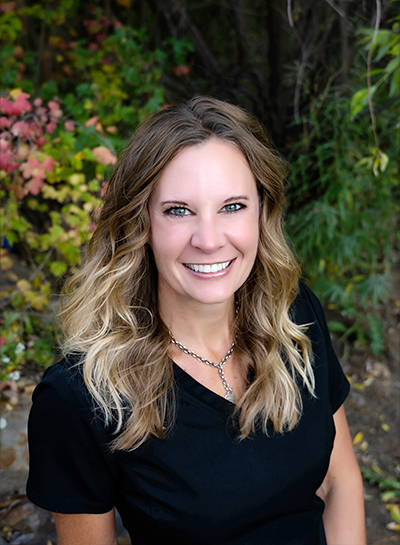 Sherrie, RDH, ASDH, Laser Certified
Sherrie grew up in rural Illinois. She graduated from the dental hygiene program in Champaign, IL. She worked in the suburbs of Chicago before moving to Colorado in 1997. Sherrie loves the opportunity to help others improve their dental health and smiles! Quality patient care is very important to her, and she always gives 100% to her patients. She enjoys taking continuing education classes to further learn and use that knowledge to better serve her patients. Over the years, she has worked in various offices and has been with Meadows Family Dentistry since 2017. Her leisure activities include spending time with her family and friends, cooking, reading, various outdoor activities, and watching sporting events.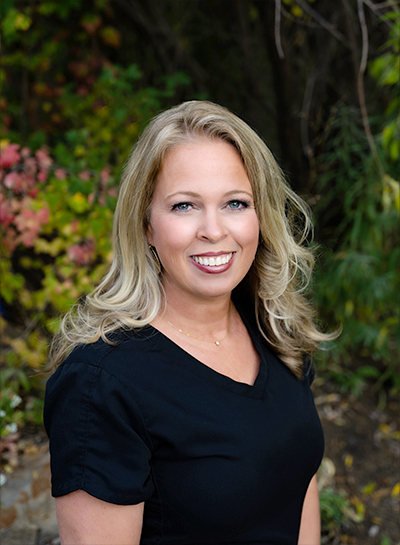 Megan, RDH, BSDH
Megan has been practicing dental hygiene for almost 20 years. She graduated from the University of Colorado School of Dentistry, and since that time, she has practiced in multiple general practice offices but has also worked in a pediatric practice. She was raised in Boulder and has continued to live in Colorado because she LOVES the mountains. Even though she loves her home state, her favorite thing to do is travel-make sure to ask her about some of her adventures. As a dental hygienist, her goal is to provide our patients with top-notch preventive care in a manner that is comfortable and informative. Most importantly, she hopes to empower patients by giving them all the tools necessary in order to achieve their oral health goals in-office and at home!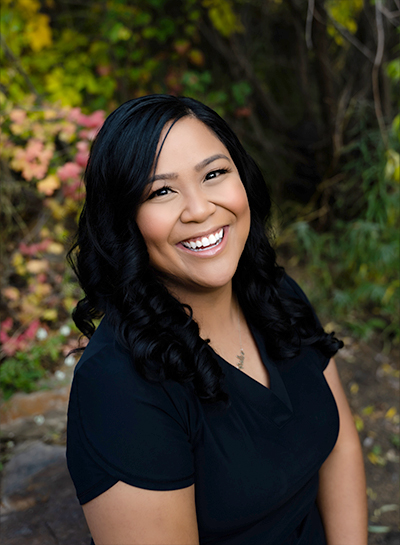 Heather, RDH, BSDH, Laser Certified
Heather was born and raised in the San Francisco Bay Area. She attended Brigham Young University prior to moving to Castle Rock in 2015. She began working as a dental assistant with Dr. Polson and quickly became passionate about dentistry. She went on to pursue her RDH at the Utah College of Dental Hygiene with the intention of always rejoining the amazing team at Meadows Family Dentistry. She is devoted to making patients feel at ease and comfortable. She enjoys educating and optimizing patients' oral health by providing high-quality care and the feeling of a great smile. Heather loves all things crafts, dogs, new adventures, food, traveling, collegiate and professional sports (especially ALL Bay Area teams) and can't wait to help you pursue your smile needs and goals!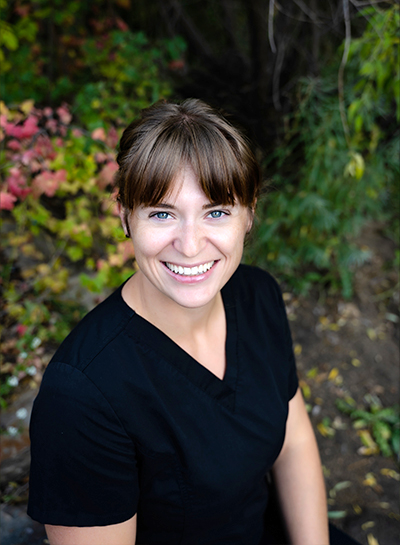 Olivia, RDH, BSDH
Olivia grew up in Monument, Colorado, and graduated from Lewis Palmer High School. She graduated with her BSDH in 2009 from the Utah College of Dental Hygiene. In school, she won the Golden Scaler Award, and she has been cleaning teeth ever since! She loves to educate patients about oral health care while keeping in mind current dental recommendations and each patient's personal oral health. Her favorite tooth is the mandibular first premolar - and she encourages people to floss while they drive instead of texting while they drive. When Olivia isn't at work, you can find her homeschooling her four kids, rock climbing, hiking, or reading.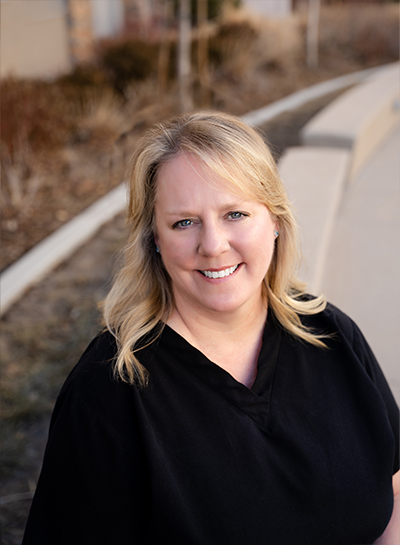 Stacey, RDH, BSDH, Laser Certified
Stacey grew up just outside of Tucson, Arizona, and moved to Castle Rock in 2012. She has been with Meadows Family Dentistry since and feels blessed to be a part of this amazing team. She has worked in the dental field for over 20 years and has been practicing Dental Hygiene since 2009. She takes pride in being able to put patients with dental anxiety at ease, assuring a more positive dental experience. In her downtime, Stacey enjoys cooking, trying new recipes, and traveling. Fun Fact: Stacey played collegiate softball and loves watching all college and professional sports.