Main Content
Teeth Whitening
Keeping our teeth their whitest is a lot harder than it sounds. With all the coffee, wine, soda, sweets, smoking and other foods that have the ability to stain our teeth, it is difficult to maintain a white smile. Even daily maintenance sometimes leaves your teeth a little lackluster. Teeth whitening is an excellent way to restore the natural color of your teeth or even make them whiter than your natural color.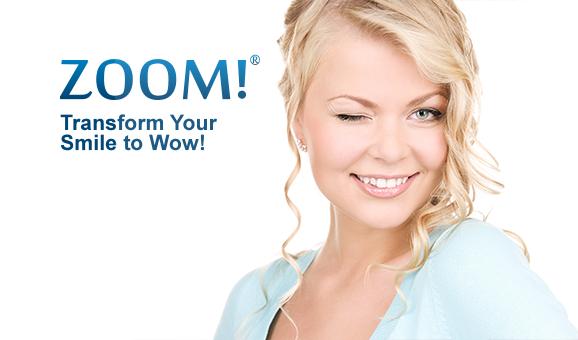 In-office Whitening
Our office features the Zoom Teeth Whitening System. This in-office bleaching procedure provides the quickest and most effective way to whiten teeth. The whitening gel is applied directly to the teeth and used in combination with a special light. Results are often seen in only one, 30 to 60 minute treatment. In addition to the in-office session you will leave with a customized whitening tray and touch-up bleach to be used in the future when needed. This is one of our most rewarding procedures as patients achieve a more youthful and whiter smile in less than 90 minutes.
Custom Trays & Home Whitening Kit
The most common whitening option is done with custom take home trays. A tray or "retainer" is created specifically for your teeth. Once the trays are created, Dr. Polson will send you home with whitening gel and instructions to achieve your desired results. Other teeth whitening systems and products are available over the counter, including whitening toothpastes, over-the-counter gels, rinses, strips, and trays.
Generally teeth whitening is ideal for people who have healthy, un-restored teeth and gums. Individuals with yellow tones to their teeth typically respond best. This cosmetic procedure however is not recommended for everyone. It is best to ask if whitening is right for you.