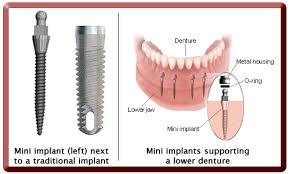 Mini implants are self-tapping threaded titanium screws for provisional and long-term applications. These devices allow for the immediate loading and long-term stabilization of dentures, partials or smaller implants.
"Mini" or small-diameter implants (SDIs) are traditionally prescribed due to medical, anatomical or financial reasons. The benefits include a minimally invasive surgical protocol, immediate loading and affordability. They can accommodate new or existing dentures, which are anchored to the heads of the mini implants via a simple and effective O-ring retention system, providing you new levels of comfort and confidence.
Mini implant may best serve patients who require stabilization of dentures, partials or those who have a missing tooth that is located in a narrow area. A small number of narrower implants are FDA-approved for the purpose of prosthesis stabilization, including the mini dental implant. Only certain dentists may perform this procedure.
There are some core differences between traditional implants and mini implants:
Mini implants are approximately half the width of their traditional counterparts.
The implant is not fully submerged during a narrow implant procedure.
Should implant failure occur, the small size (that of a toothpick) means grafting is not necessary.
Mini implants are less costly.
Mini implants are solid though they do not contain a screw.